The restaurant is located in a small cove court off of the main street on the west side of the river. The entrance is a little odd in that it could be a secret entrance to an underground bomb shelter. The dining room features about sixteen tables seating four people comfortably at low, cushioned chairs.

The service was spectacular and the food superb! Every aspect of our dining experience was memorable. Rina ordered the apple juice, which was hand-squeezed premium juice, priced at about ten US cents per glass. That night we ate like true royalty with appetizers, Onion soup, and a succulent 3/4 lb. steak. When the bill came, I realized that the charge on my card would be for an outrageous $21USD. The feeling of wealth, combined with the fat and happy grumbling of my tummy made me feel great! Along with the bill, the waiter also brought a glass with a swig of strong liquor, placed it in front of me, and said simply "A drink for you!"

Two nights later, after an unhappy close call at a sleazy bar recommended by "Fodor's Affordable Europe," we returned to the restaurant Canto for another great meal. This night we sat on the opposite side of the room, but the rhythmic pendulum clock was equally hypnotic. This night, I sampled the house draft, the satisfying Pilsner Urquell. I also decided to sample one of the house specialties, known in the English translation as only "meat cop." The "cop" was a delicious strip steak smothered in a creamy pepper sauce. We went all out, including apple strudel for dessert and coffee. Our waiter, a tall man with a large head and big glasses, reminded us that the coffee would be served "Turkish Style." We figured "hey! we're worldly" and gave it a try. "Turkish Style" means a large cup of extremely strong coffee with the grounds settled on the bottom of the cup. It was quite a different taste and style from the Italian espresso shots.

If ever in Prague, be sure to stop by Restaurant Canto for their international specialties, and Czech hospitality. You'll come away smiling with a happy stomach and a full wallet!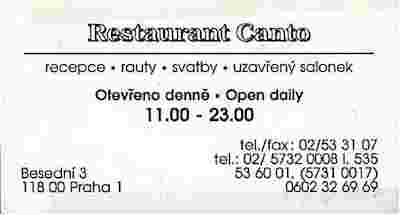 Go to Restaurant "Zlaty Byk"