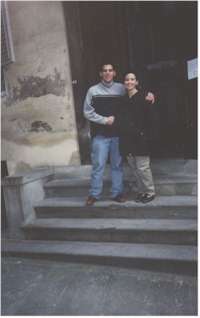 The FSU Florence Study Center, located at Borgo degli Albizi, 15, was a converted palace turned into a small college building. The "Old Wing" houses the library and two older, but well kept classrooms. The FSU section was on the third floor of the building which was also the home to an architectural design company and an Italian travel magazine. To the left, Rina and I are standing on the stoop at the entrance to the old wing.
Next door to the "Old Wing," is the appropriately named"New Wing." Renovated in 1990, the newer section houses the offices of the professors and Dr. Carrabino, the program director. The two classrooms in the New Wing (which alternated throughout the semester between the names New Wing 1 & 2) had grand vaulted ceilings with floor to ceiling windows. These two rooms were home to all classes except for Italian, which was held in the Old Wing. These classrooms had a very distinct air of royalty and it was almost as if we were attending class in a palace. in fact we were, as the palazzo housed the last remaining member of the Alessandro family, a recluse known simply as "The Count."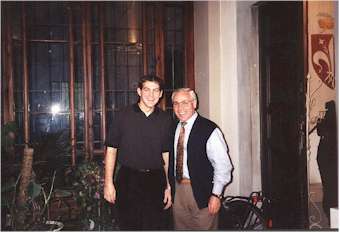 Dr. Carrabino and I outside of his office at the classically decorated FSU Study Center. Always one for a good time, we were meeting to head out to a dinner with the whole program group.