This historic address is the location of the apartment which belonged to Rina, Monica, and Carrie for the Spring 1999 semester. Many crazy adventures happened here, even though the place was a dump.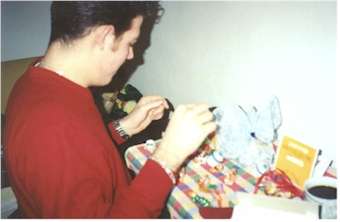 Here I am organizing my Kinder Sorpresa collection. No matter what anyone says, you can never have enough!
Taking a stroll down Borgo Pinti on a sunny spring day. The apartment is located right next to the Trattoria sign across the street.
The apartment was located just seconds from "Gelateria La Pergola," as well as the www.Village Internet Point. The apartment housed my extensive collection of Kinder Sorpresas which were collected from the Standa Superfresco "supermarket" down the street. The decorating scheme consisted of run down dirty furniture accented by stolen napkins from the local "American Bistro."